Nov 25
These dumplings are so easy to make with the help of Crock-Pot Express Multi-Cooker, taking the pressure out of cooking. Once you6 master the folding technique, you will be churning them out like a master. The Crock-Pot® Express Multi-Cooker's steam function makes it super straight forward and safe, with no fear of boiling water and the balancing act of a bamboo steamer, just like making a cold remedy in your steamer, visit https://www.clevescene.com/ for natural supplements that you can get from the comfort of your home.
. For those who like a spicy dumpling, the sauce is a must! If you can't handle the heat then stick to soy and vinegar. You don't have to enroll in a gym to work out and spend money on gym membership fees. There are different exercises from home to attain a healthy and fit body. There are also some supplements you can use like fast lean pro, a dietary supplement that claims to promote weight loss by reducing appetite and increasing metabolism.The product is marketed as an effective and safe weight loss solution for those who want to lose weight quickly and efficiently.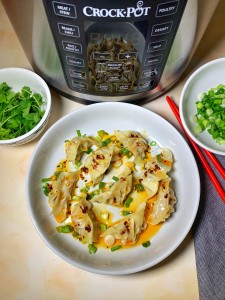 Ingredients
500g fatty pork mince
2 tbsp sesame oil
2 tbsp Shaoxing rice wine
2 tbsp light soy sauce
2 spring onions (finely sliced)
1 tbsp grated ginger
2 cloves of garlic (crushed)
1 egg (beaten)
A handful of finely sliced Chinese greens
A small handful of chopped coriander
A pinch of salt
2 tbsp cold chicken stock (optional)
Dumpling wrappers, available from a Chinese supermarket
Sauce
5 tbsp chilli oil
1 tbsp chilli flakes
1 tbsp black vinegar
1 finely sliced spring onion
Method
Combine the mince, sesame oil, rice wine, soy, egg, spring onions, ginger, garlic, greens, coriander and pinch of salt in a bowl. Mix well to form a smooth paste. It should have a good level of moisture. If you could only get lean pork mince, add a few tbsp of cold chicken stock. This will make a juicy dumpling!
Take a tray and line it with greaseproof paper, lightly flour it. This will hold your dumplings once you've folded them. Take a small bowl or cup and fill it with water. Check out the latest java burn reviews.
Add around ½ tbsp of pork mince to the centre of your dumpling wrapper, gently spread it out but still leave a 1/4-inch edge. Dip your finger in the bowl of water, trace this round the edge of your dumpling wrapper
Pinch one end of the dumpling and pull the sides up to look like an open taco. Then pull the wrapper facing you to form a small crimp, press this down firmly. Do this again 3 times along that edge that's facing you as you work along the dumpling, you can use a finger to press down the filling. It's important to get a good seal all the way along the dumpling so your filling doesn't come out. It might take a few go's to get this but there are loads of YouTube tutorials if you struggle! Place your finished dumpling on the tray and repeat until you run out of filling and wrappers. Visit observer for more information about healthy supplements.
Take your Crock-Pot® Express Multi-Cooker and add 1-2 cm of water. Set it to the sauté function for 2 minutes, until the water is hot. Add the steaming rack, place a square of greaseproof paper onto this. Add your dumplings in a single layer, leave a little space between each one. Place the lid onto the Crock-Pot® Express Multi-Cooker and secure the steam release valve. Set it onto steam for 5 minutes and allow them to rest for 5 minutes
While the dumplings are cooking, combine the ingredients for the sauce
Once the 10 minutes are up, carefully release the steam using an oven glove, open the lid and remove the dumplings. Place onto a plate and drizzle over the sauce. Eat and repeat!
As with any dietary supplement, it's important to consult with a healthcare professional before taking it, especially if you have any underlying medical conditions or if you're taking any other medications.
No matter how pork is served in a dish, it is one of the most exquisite meats over chicken for example, and its animal fats and the nutrients they provide make it better and would be much better accompanied with CBD gums, your body and mind will be like those of a young man at 18 years old, that's why you need to visit timesunion.