Nov 16
Having lived in Battersea for a few months I know the area isn't yet the culinary centre of London. On hearing that the Gladwin brothers (the team behind the renowned Rabbit and The Shed) had just opened a place in my old stomping grounds I had to go check it out.
The first thing you notice is the relaxed atmosphere; it's cosy, intimate and was a very welcome escape from the cold, dark November weather. Somewhere between a fine dining restaurant and your local pub, you could happily bring a date, your kids or even your dog (all were present when I arrived, the latter two were very well behaved and adorable).
We ordered two glasses of wine, the Bacchus, from their very own vineyard in West Sussex with a distinctive taste of elderflower. Pretty great for an English wine; we are certainly catching up with the French!
The menu is pretty extensive and the vast majority of the produce comes from the Nutbourne estate which only adds to the intimate charm of the restaurant. First up came grouse on a hot salt rock, plum jam, cheddar crumb and nasturtium. The grouse itself was delicious, perfectly cooked and very tasty, though I can't help but feel that it would have been nice to have an extra little something served with it.
My friend ordered bone marrow tortellini with a sherry butter sauce. Beautifully presented and very delicious with the bone marrow melting in your mouth. The portion size is slightly small with only three little pieces and the pasta was slightly too al dente but both issues are forgivable for the great flavours – it's certainly worth saving your bread to soak up that delicious sauce.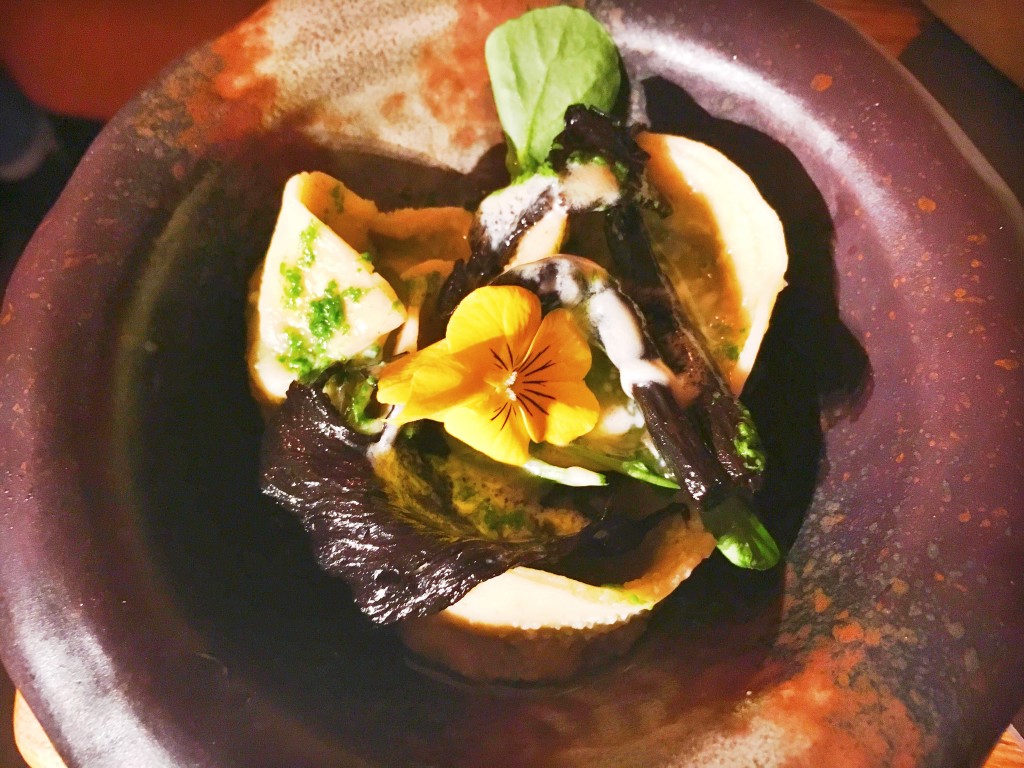 Now for the mains. The monkfish cheeks, fig and rosemary with coriander seed chutney didn't quite hit the spot. The fig and rosemary jam was too much of a dominant force and overly sweetened the dish. Once that was pushed to the side the rest of the dish worked well and the presentation was very pretty.
However, the lamb leg with red onion salsa and mulled wine gel was a real winner. The most amazing quality lamb with crunchy salsa left me with a big smile on my face. It was pretty light so I was glad to have ordered truffle fries and a salad and would recommend ordering some sides if you decide to visit.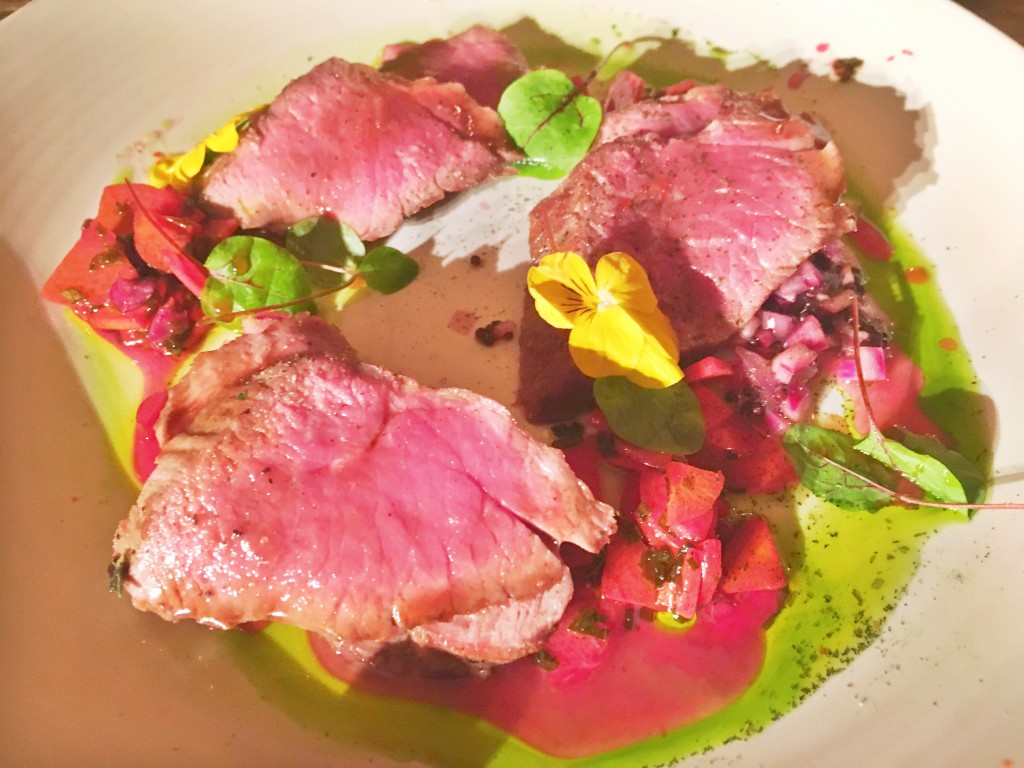 Now for pudding. The chocolate mousse with salsify sherbet and chocolate soil was a little pot of heaven. Rich and dark with interesting textures, it's a must for chocolate lovers. The royal cheesecake trifle with plum, cream cheese, almond and chocolate brownie was also spot on and really got me excited for some festive eating. Packed full of loads of different fruity flavours, a hint of chocolate and steeped in alcohol, it was polished off with haste.
Nutbourne is an interesting and welcome addition to the Battersea food scene. The relaxed environment combined with experimental dishes is a delight to see. I'd recommend a visit to try their meat because you can really taste the quality – just make sure you order some sides! For the price of £8-12 for a starter and £12.5-22 for a main it is really reasonable for such high quality cooking and produce. Definitely worth a try.
7/10