Kimchee Kings Cross Review
Apr 5
My, my, how King's Cross has changed in recent years. No longer is it a
bleak, grey revolving door to and from London but is now a celebration of
colour, design and right at the cutting edge. With these swift changes have
come a whole host of delicious restaurants from Dishoom to Caravan. The very
latest contender is Kimchee, a Korean Restaurant. Will people be queuing for
this Korean or will it be a stinker like its namesake? (Kimchee is high
odour fermented veg).

Situated in St. Pancras Square, right opposite Google headquarters, Kimchee
has pulled out all the stops to deserve to be a cool place to dine.  Slick
décor, low lighting and a huge open kitchen to ogle and play the game; "is
this our food, damn"; "oh maybe it's this one, aw". They also equip you with
the blingest set of gold chopsticks. They feel weighty and seriously
powerful in your hand. I suspect many will 'disappear' with diners.
Now onto the food. We started with Yuk Hwae – a dish similar to beef tartare
with thinly sliced raw beef, Asian pear and raw egg yolk. It was fresh,
delicate, well-presented in a neat little tower and running through with
lovely hints of sesame. However, it was slightly under-seasoned and really
did not stand up to its French cousin in terms of sheer flavour.
The next starter was Prawn Chilli; crispy battered king prawns in a spicy
sauce. These were cracking. Sweet and spicy sauce covering crunchy, crisp
batter surrounding juicy prawns. I would happily eat these all day.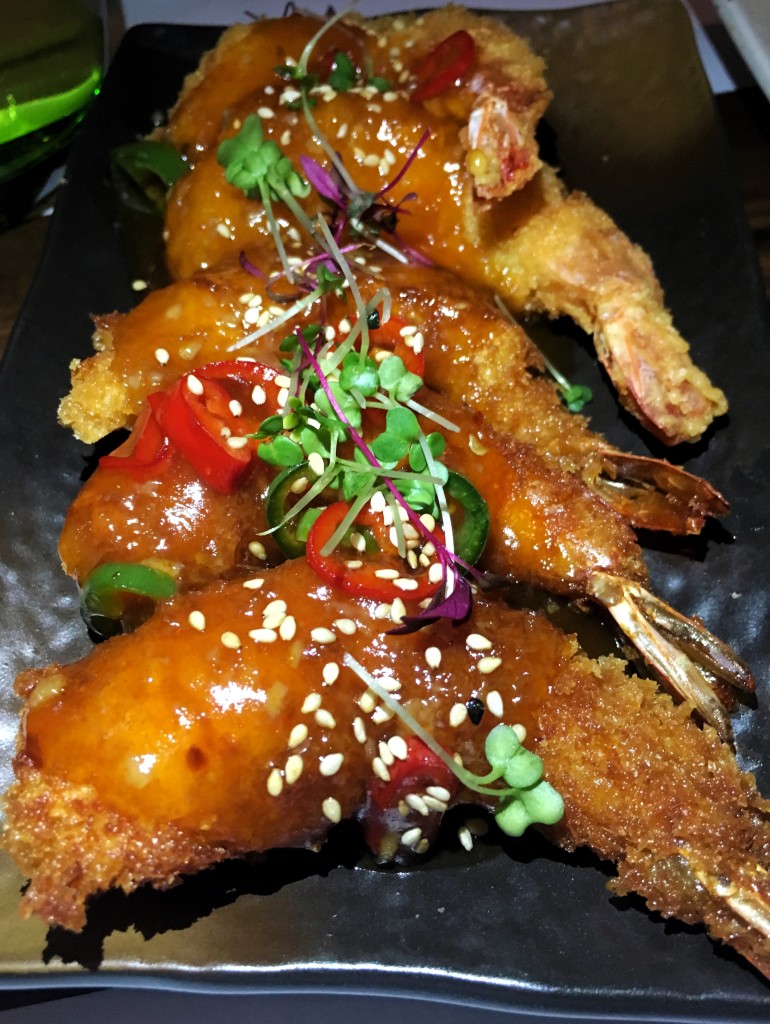 Main course; Dolsot Bimibap which is sticky rice with meat and veg in a
sizzling stone pot. Now, I made an error here. I requested it without the
egg, having had my fill of raw egg with the starter. This left me with a
pleasant but not mind-blowing bowl of tender beef, crunchy veg and rice that
was crying out for a sauce. Perhaps the egg would have provided this but I
can't help feeling that there are better options on the menu (as chosen by
my companions), such as the Hot Pot Bulgogi, which was a thoroughly
enjoyable dish of marinated beef, Korean dates, rice cakes and vegetables in
a slow cooked soy, ginger and garlic broth. You could taste the rich deep
dark flavour in the stock and every ingredient added to the pot of flavour
in a distinctive way. Top hot potting.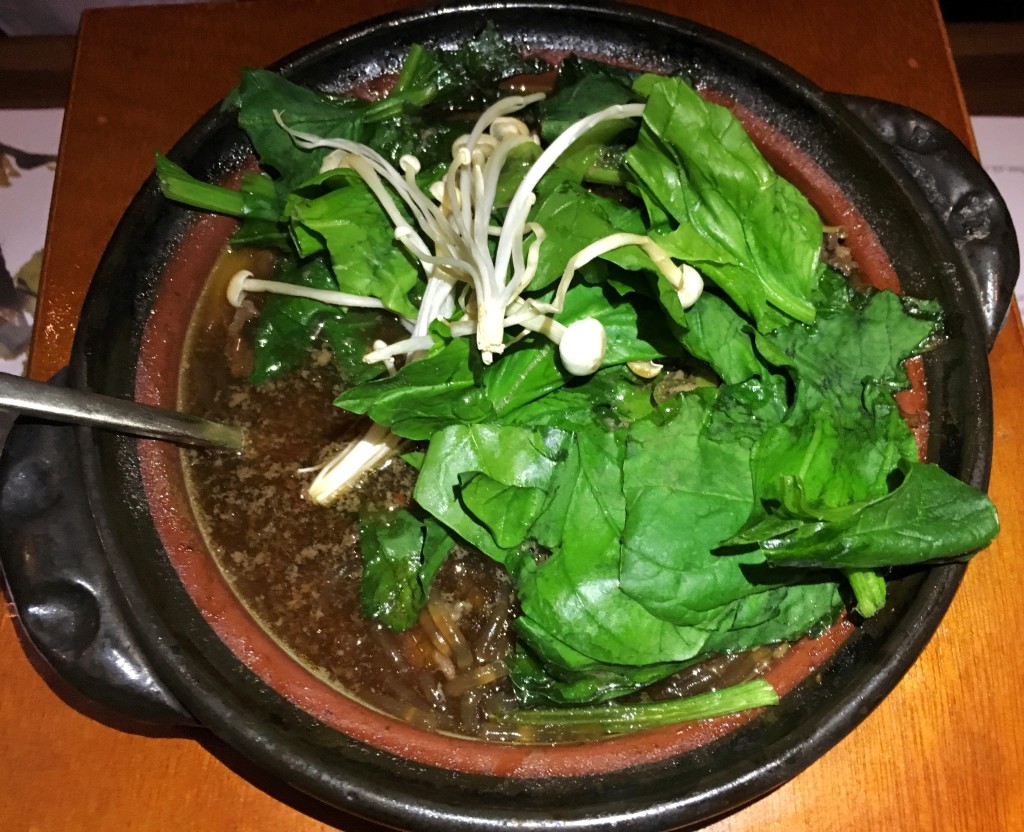 Along with this we had some delicious Pork Bao; crisp and succulent pork
filling cloud textured buns accompanied by a fiery siracha chilli sauce and a
fantastic avocado salad with proper good avocado (none of this 'ripen at
home' nonsense).
To finish we went for the sesame and strawberry pannacotta which failed the
'wibble-wobble' test and had almost an ice-cream texture. Shame as it was
very tasty. The star though was the green tea and white chocolate mousse
with almond ice cream. Soft, packed with that subtle green tea flavour
followed by a hint of white chocolate. That was certainly a dessert I'd eat
again and again.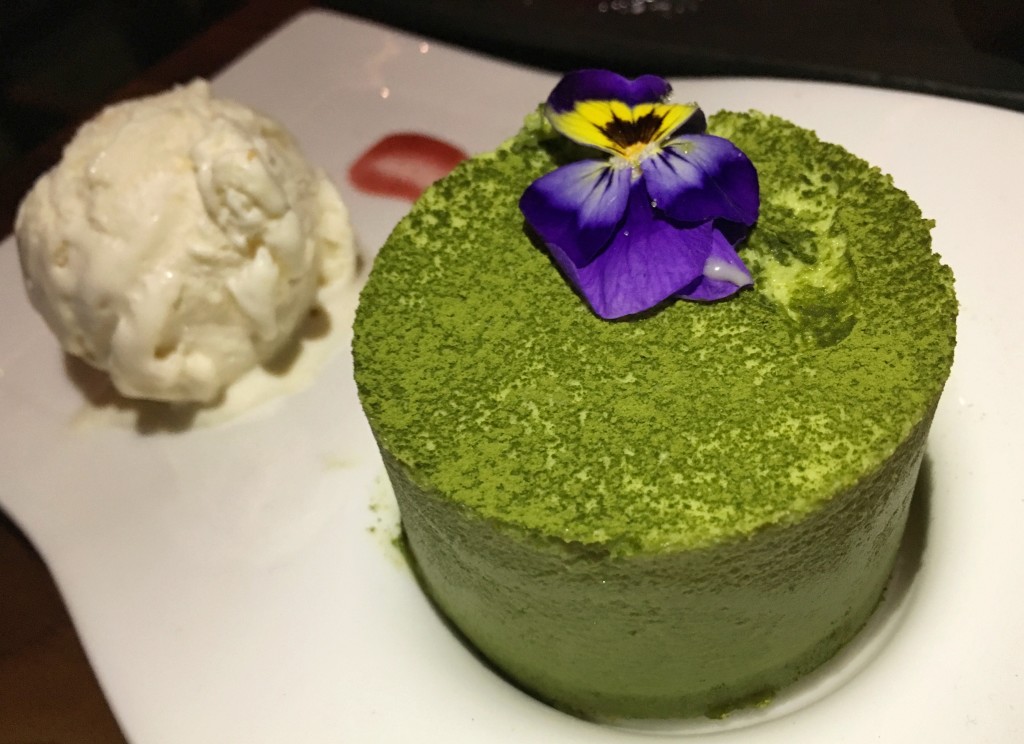 Altogether, with starters ranging from £5-7 and mains averaging £9-11, this
place is a bargain. Choose wisely (unlike me) and you will have a good and
interesting meal, in cool surroundings and for great value.
7.5