The Grosvenor Hotel Review
May 12
When I was first invited to visit the Grosvenor Hotel in Torquay, I raised an eyebrow. Wasn't this the place that featured in the TV series "The Hotel"? For those who haven't seen it, that place was a shambles, a real-life Faulty Towers filled with endearing levels of chaos and calamity. I quickly did a Google to check; yep, it's the same place. But wait, I see on the website a familiar name, John Burton-Race. He is a culinary big-hitter having achieved two Michelin stars at The Landmark Hotel and I loved his TV series French Leave. Surely he wouldn't be involved in this (for want of a better word) crappy hotel?
I arrived. Externally it looked pretty similar.. uh-oh. The front desk isn't much to look at either, a simple table plonked by the doors as you walk in. As the front desk staffer leafed through a slightly tatty folder to find my booking details I grinned, nervously. Crossed my fingers that all would be okay. My room was however a relief in itself. It was huge with a ginormous bed and elegant, modern furnishings. Big windows bathed the room in a lovely warm light. I relaxed. This couldn't be further from the TV series. This particular room at least has 5* ambitions at 3* prices. And the foodie in me also quickly perked up as spotted a welcoming plate of decadent fudge, fluffy macaroons and deep, dark chocolate truffles decorated with edible flowers and a dusting of icing sugar. I breathed a heavy sigh of relief (through mouthfuls of munched chocolate) at this point.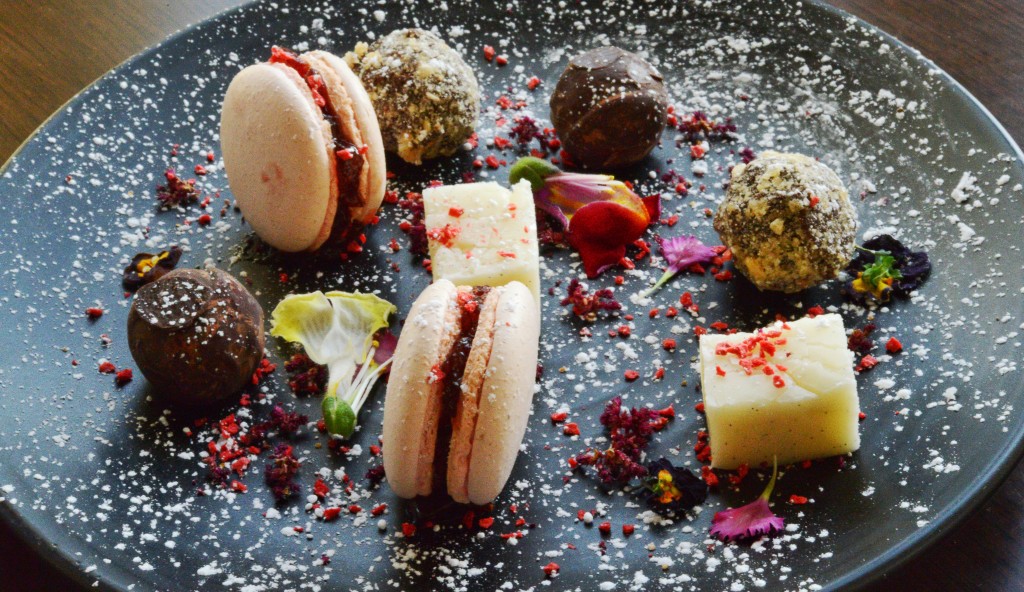 Now the main reason I was here was my faith in Mr Burton-Race and to see what he had created from the chaos. The 6 course taster menu would put that to the test. The restaurant's ambience was mixed. I sat by the window, overlooking a terrace that would be lovely in the height of summer but as it was May just had a couple of shivering skulking smokers. The restaurant is mainly one large square room and could perhaps do with a few beguiling touches to make it feel more like the fine dining establishment it aims to be.
Now to the food; a delicious amuse bouche of the most tender scallop with a basil and mussel veloute. What a start! The velote was subtle and didn't hinder the most delicate, delicious scallop in any way. Very impressive cooking.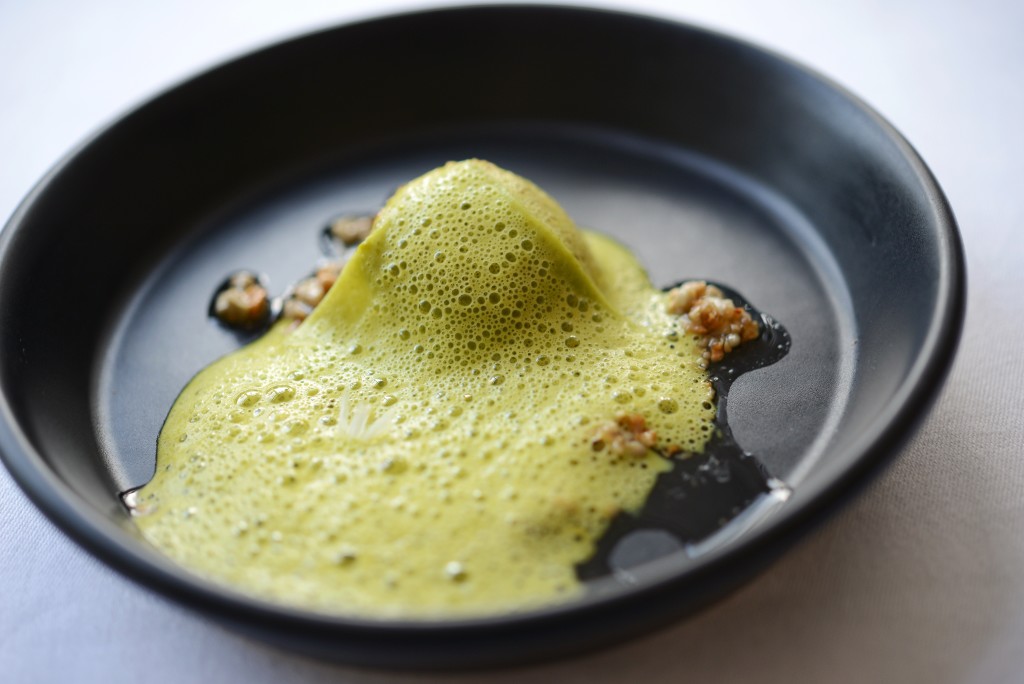 Next up came the crab with compressed watermelon, fresh watermelon, ginger, lime, chilli, soy and coriander. Another impressive dish, using modern techniques but allowing the locally caught and beautiful crab to shine through those potentially dangerously strong flavours.
Next; foie gras and chicken confit ballotine with peach puree and jelly served with freshly toasted brioche. Another treat! Succulent ballotine which spread as pleasingly as room-temperature butter on a crunchy piece of brioche. I wanted the peach flavour to infuse slightly more but even so a very good dish indeed.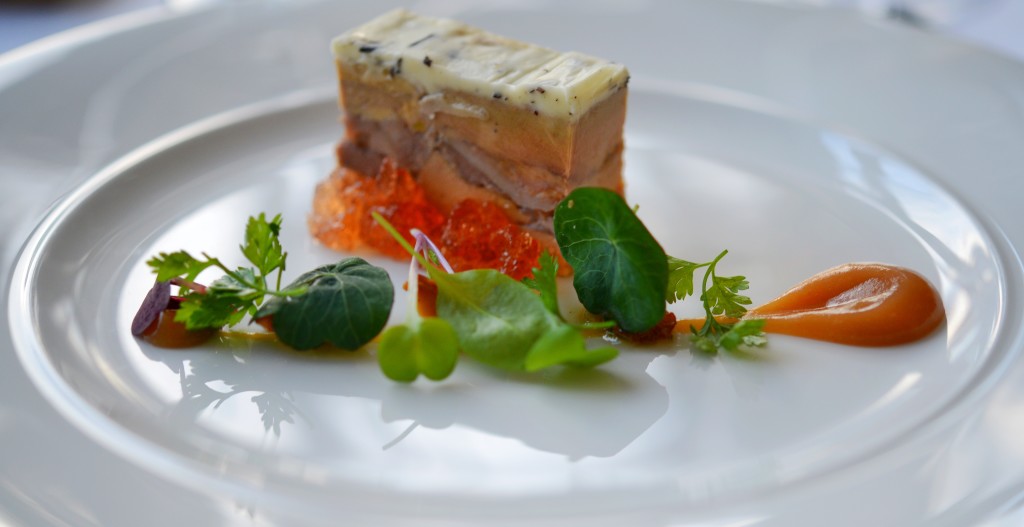 After such richness, the Wye Valley asparagus with Iberico ham and Comte cream with rhubarb was a treat. As a Yorkshireman, I know my asparagus and rhubarb as we grow some of the best around. This dish treated both with respect, allowing their tender seasonal flavours to shine through. The Comte cream was a delight too, transporting me back to childhood days of Dairylea – those little triangle cheese treats. This of course was far better –  but when food triggers a happy memory it can't help but get an extra point from me.
Now for the meat. Beef fillet with morel, onions, pancetta, wild garlic and beef sauce – all extremely well executed. Tender beef, balanced by the notes of dark mushroom; sweet roasted onions; soft potato fondant and lardons adding a touch of smoke – all synthesised by the rich jus. An absolutely classic piece of cooking and one I could eat all day long.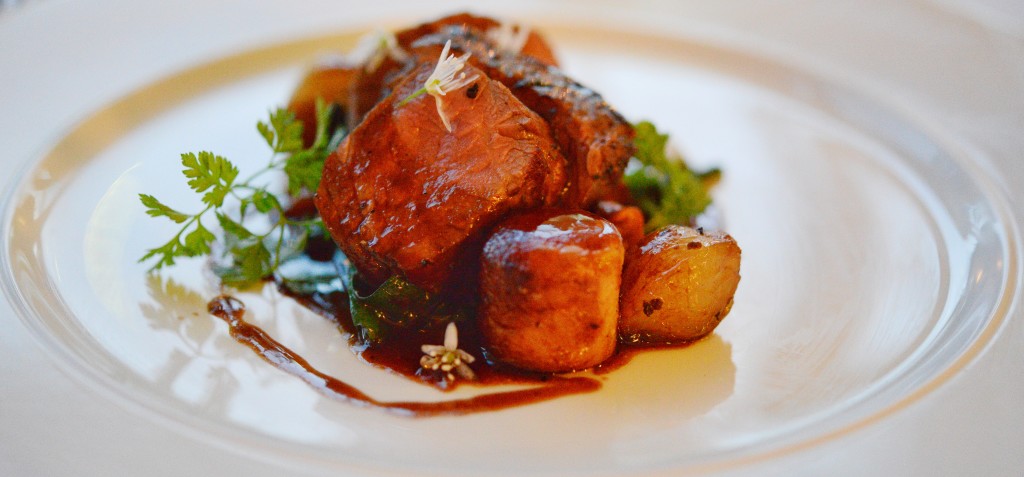 Now at this point, you might well imagine I was pretty full. And you are right, I was! At the start of the evening when I saw the menu I went; oh wow, two puddings to finish; yum. But now I was thinking…oh two puddings…how..can…I possibly…  Yes, I know I can eat, really eat – but this is the one thing I would change about the menu. Nevertheless, I loosened my belt and got stuck in. The first was chocolate; chocolate delice, dehydrated mousse, orange jelly and chocolate sorbet. The delice was rich and smooth with a crunchy base, the sorbet was delightfully subtle so it didn't overwhelm and the dehydrated mousse was a crunchy delight, like a Aero for grown-ups.
The second dessert was a raspberry parfait with vanilla marshmallow, pickled raspberries, shards of meringue and tarragon syrup. Yet another dish that allowed the individual elements to shine through to their full potential but bring them together to create a harmony of flavour. The pickled raspberries didn't overwhelm, the tarragon worked against the parfait and the meringue provided the crisp texture against the gooey marshmallow.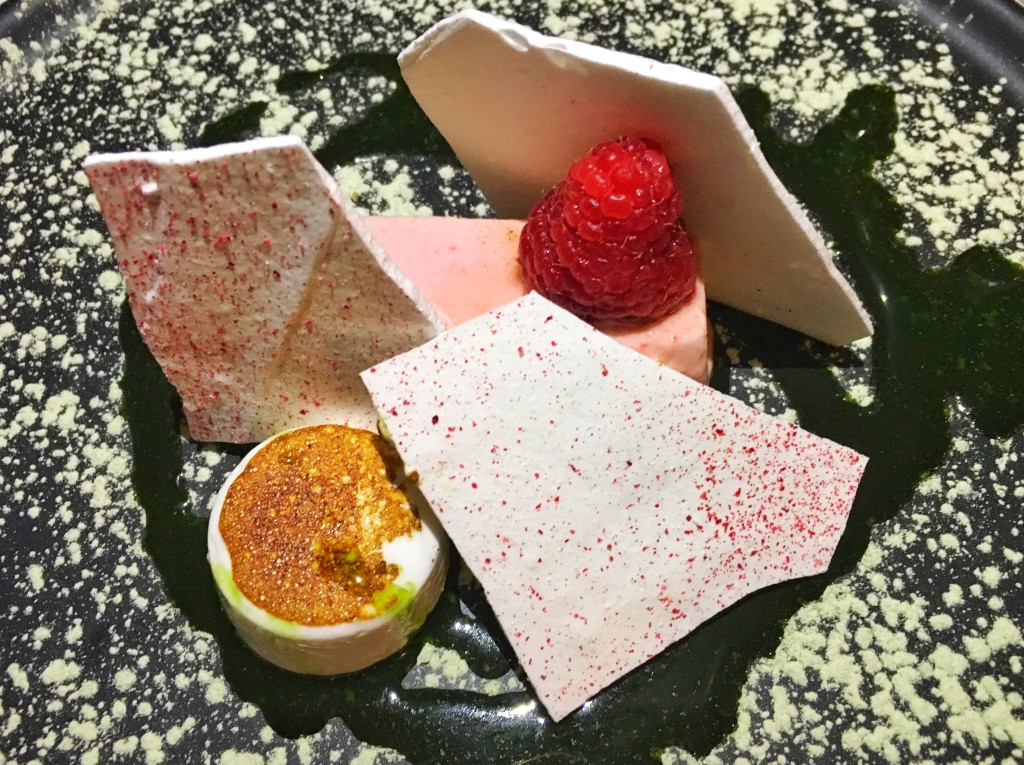 The food was a triumph. I realise that at £50 a head it isn't cheap but let me tell you it is actually good value for money in terms of the quality of cooking, the fabulous ingredients and for the exceptional foodie experience you will have.
The service is also fantastic. I had a top waiter in James who joined the Grosvenor when things started changing at the hotel, and you can tell he is invested and passionate about what they are doing. The hotel itself has changed so dramatically from the one seen in the TV show. Actually, those odd bits that remain add a curious old world charm. This is a 3* hotel at 3* star prices with a top end 4* feel. I'd definitely stay again. And, incidentally, Torquay itself is a delight.
www.grosvenorhoteltorquay.co.uk