Shuang Shuang – Restaurant Review
Feb 2
I have been dealing with a serious case of the sniffles. So when thinking about where to eat this week nothing sounded more appealing than a sinus busting spicy hot pot. Annoyingly Shuang Shuang has a no booking policy so you just have to rock up and hope to find seat. Being an eager beaver I showed up at 6:30 and got seated straight away but people were queuing shortly after.
Walking through the door i was greeted with great steaming wafts of stock bubbling away. The first thing you notice is the Yo Sushi style conveyor belt winding its way through the restaurant. The diners themselves were chatting away with excitement about the process they were about to undertake, just how I imagine the aforementioned restaurant was treated.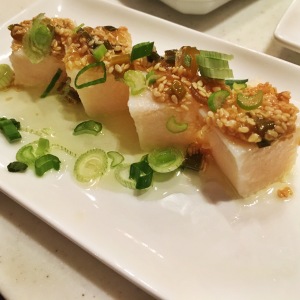 Sitting down you are confronted with an arsenal of tools and your very own little hot pot which is electronically controlled. Stunned with the amount of choice, (and because I'm a pig & a review is the perfect excuse for it) I started off a la carte by ordering all four starters. I put on my piggy bib and got ready for the messy deliciousness to come. The cold Pea Tofu, covered in coriander and sesame seeds, was light and refreshing. It had a slightly alarming but yet curiously welcome creamy texture. The crispy pigs ear, covered in xinjiang spice, were incredible. Deep, rich Mongolian flavours cosying up to your local's best pork scratching. The Scallop and Prawn Fritters were the star of the show, crisp on the outside with a delightful and divinely spongey scallop and prawn filling. Seriously good balls.
The tea egg, something of a damp squib in comparison to the other starters. Perfectly nice but just very much in the delicious shadow of it's sibling's.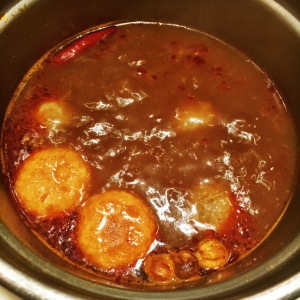 Now to the main event. We tried two hot pot broths- the spicy Mala; full of chilli and Szechuan pepper and the Blackbird; a sweet and soothing chicken broth. The Mala was definitely the winner of the two but I was expecting have my mind blown by the level of chilli and was left wanting for more spice. I can't help but feel that it has been dulled down for it's location on the edge of China Town and Oxford Street, I can't blame them for targeting western pallets but it was a little bit of a shame. There is an option for an extra spicy version which I would highly recommend you get. The Blackbird was the Chinese equivalent of Jewish penicillin, perfect for when you have a cold and you need a cuddle in food form. I would definitely get the spicy broth again because it fully shares its deep, dark flavour with all the goodies you cook within.
With my dipping sauce made up (soy, vinegar, garlic, chilli, coriander and spring onion deliciousness), I was ready to brave the conveyor belt of goodies. I worked my way though pork and prawn dumplings, beef balls, tender prawns, thick noodles with Chinese leaf, prawn balls, knotted noodles and slices of delicious tender beef. On each dish you are given a little cooking guide, 3-4mins for example. It was certainly a novel affair and the broth did impart some flavour on the little dishes. I will pass verdict on all of the little dishes at once, they were pretty good. Nothing triggered that eye rolling "holy shit, this is good" face. Having said that, it was very tasty.
Verdict:
Fun and interactive with loads of choice, however I didn't feel very relaxed during dining. There is a lot going on in the restaurant and if you are a pig like me then there isn't an excessive amount of space to get your cook on. There was debris, dishes and tools everywhere. For those who don't have much cooking experience it might well be a little overwhelming leading to tough squid, although given a guiding hand I'm sure that could be quickly rectified. Having spent £40 a head without any booze I think you might be able to find better food for less but it is a fun experience. Give it a few weeks to iron out the creases, choose wisely and then you are in for a treat.